Experience the Updated 2017 Subaru Crosstrek Throughout Bronx, Westchester, and Beyond
As crossover models continue to be some of the most sought-after vehicles in the Bronx, NY area, many drivers have found immense satisfaction within the Subaru Crosstrek, and the style and capability it offers. With the arrival of the 2017 Subaru Crosstrek, this impressive crossover model has been enhanced even further, making certain that it will deliver unrivaled satisfaction to drivers of all kinds in the areas of Westchester, New Rochelle, Pelham, Yonkers, and beyond. The updates to the 2017 Crosstrek don't bump the price tag up by much at all, ensuring that drivers that demand value will find everything that they seek in this adventurous crossover.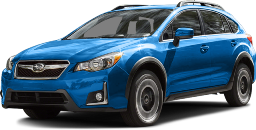 All-New Crosstrek Special Edition
For the 2017 model year there are a number of changes to the Crosstrek, first and foremost, there is no longer an available Hybrid version of the vehicle, but there is a new Crosstrek Special Edition, built off of the Premium trim level, which offers unique color options, ambient red-colored lighting in the footwell, push-button ignition with keyless entry, and much more the Crosstrek Special Edition is sure to continue delivering the automotive bliss that drivers seek.